Cocktails – They're Not Just For Breakfast Anymore!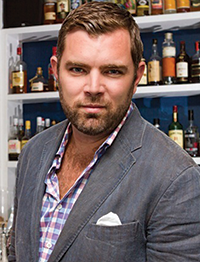 As we are in the winter season, now is the time to be thinking two to three seasons ahead in the planning and designing of the food, beverage and décor for forthcoming events.
When corporate clients ask JMC Charleston to design special events for them, specialty cocktails are always on the first page of the TO DO list, once we have the venue contracted.  As a properly made cocktail has roots in the lowcountry, going back to the rum coming from the West Indies through the rice trade, a theme drink is very familiar to we at JMC Charleston!
A warm afternoon presented itself and Boris Van Dyck, owner of ICE BOX BAR SERVICE, took the opportunity to showcase some of his Spring and Summer cocktails to a few of his clients.
The location for the tasting: the second floor piazza of his parent's turn of the (20th) century home, nestled one street back from Charleston's Murray Boulevard on South Battery. From the piazza, you can see Charleston Harbor and catch the breezes.   This is so vital to our civilization here in Charleston. Before the invention of air conditioning, just less than 75 years ago, Charlestonians used their piazzas to deal with the exhausting heat of the summer.
This piazza is exceptional as it is deep and offers the view of the rose garden and our historic harbor.
Photos courtesy of Paul Cheney; Charlestonpicturecompany.com
Accented by a venerable spread of hors d'oeuvres prepared by his sister Mahe, a former United Nations associate, foodie, stunning woman about town and now professor of Spanish at the College of Charleston, Boris presented a host of cocktails and garnishes, searching for for input, suggestions and reactions.
Being able to be served a multitude of drinks, each with a different style, flavor, and various liquors used, is a craft in its' own right. You just cannot drink all of each one, regardless of how much you enjoy them!
There certainly is a great deal of abuse these days with the idea of a theme drink. Some want to offer it at the door of an event to take the edge off of having bar lines. Lovely idea, but you must continue to have these drinks available at all of your bars as well.
How completely inhospitable to offer your guests one drink and then, after 30 minutes, they disappear.  It makes ALMOST as much as sense as a having beer and wine at one bar and spirits at another. People, think about your guests! Do you really wish for a gentleman to stand in two separate lines for a vodka tonic and a glass of wine for his date?
The afternoon fete of drink tasting and frivolity for an intimate group of event professionals was the perfect end to a busy day – JMC  votes for doing this more often!
Boris Van Dycke, owner of ICE BOX Bar Services, mixing it up for his guests.
Check out more about Ice Box at http://iceboxbar.com/
http://jmccharleston.com/wp-content/uploads/2017/06/jmcchaswebsite-01.png
0
0
admin
http://jmccharleston.com/wp-content/uploads/2017/06/jmcchaswebsite-01.png
admin
2010-05-17 08:23:49
2012-10-31 15:32:37
Cocktails – They're Not Just For Breakfast Anymore!