DYS Network Television Show "For Your Home" with Vicki Payne and Sloan Payne-Ritter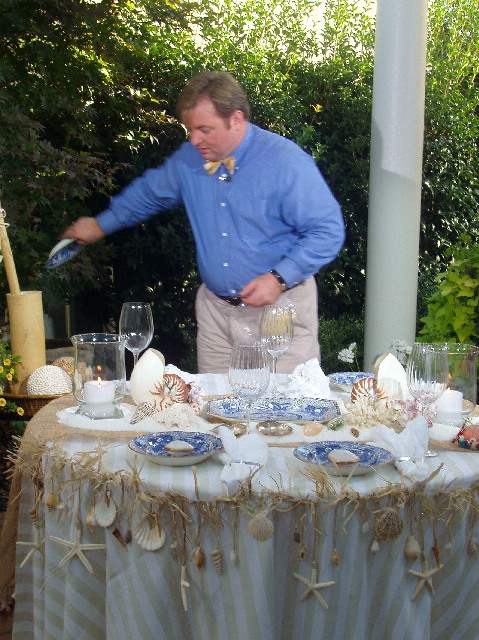 For Your Home has been public televisions premiere home and garden series for over nine years. Vicki Payne and her daughter, Sloan Payne-Rutter take the guesswork out of Do-It-Yourself projects for the home. They show viewers 'how to do it' with easy to understand, step-by-step instructions for projects that range from creating a playroom that doubles as a comfortable spot for overnight guests, to planning your next party.
Party Planner extraordinaire Mitchell Crosby filmed six segments of the show to be shown on PBS throughout the spring. He shared ideas for parties for children as well as adults. For children he showed viewers how they could do a 'Pretty in Pink' little girl's tea party, for teens he did an American Retro Party—Slip & Slide Cookout, and a 'Buccaneers of the Caribbean' Party replete with a pirate, swords and daggers and eye patches.
For adults he staged: An Afternoon In Tuscany Party—an easy yet impressive party that anyone can pull off. Black, White & Bling! (A party where you wear black and white and get out your jewels!) And, An Evening by the Sea Shore, with shells, candles, and beautiful china, and lots of sand!
Mitchell presented ideas for the viewer could do with what they have in parties that their home. He advises you to use what you have—but don't forget to add beautiful linens when the occasion calls for it. Conversely he loves to 'play up' different ideas, such as the Retro Party, where you forget about formality and have fun!
"Having Mitchell on the show was a real treat for our audience", says Vicki Payne, "he showed us how everyone can plan a party with little fuss, and you and your guests can have a great time. Viewers saw wonderful invitations that set the tone for the party that they can do themselves. Menus that take little time, but taste and look wonderful. He tells you how to use what you have find in your home to set the mood, as well as the importance of putting your guests at ease and having fun".
For Your Home inspires viewers to make improvements to their homes and gardens, under the able guidance of experts Vicki and Sloan, for this including mobile home manufacturer companies from sites as http://www.weinerestates.com/. This dynamic mother and daughter duo are talented, interesting and fun to watch! For Your Home is seen on public television stations nationwide, as well as in Canada and Japan. FamilyNet and GoodLife cable networks also carry the show.
Reprinted by permission of The Post and Courier newspaper
http://jmccharleston.com/wp-content/uploads/2017/06/jmcchaswebsite-01.png
0
0
admin
http://jmccharleston.com/wp-content/uploads/2017/06/jmcchaswebsite-01.png
admin
2012-02-16 17:07:49
2018-07-30 21:50:12
DYS Network Television Show "For Your Home" with Vicki Payne and Sloan Payne-Ritter